Face masks made of nightingale faeces, used in Japan for centuries, are currently resurgent in western salons. But what are the results like?
I am standing in the bathroom with poo all over my face. Let me explain. Face masks made of nightingale faeces, used by elite Japanese women for centuries, are one of the stranger beautifying techniques currently resurgent in western salons. Im giving the cheaper, at-home version a try, to see if theres anything in it.
Do nightingales shoot magic out of their cloacas? More to the point, who wants to be young for ever if it means spending eternity in the bathroom with poo all over your face?
Uguisu Poos facial mask (Uguisu, 30g, 17.99) is manufactured using the ancient no fun making method, announces the website. Sounds right. Only two companies are approved by the Japanese government to make this product, on farms where free-range birds are fed organic seeds. Their droppings are UV-sterilised and micro-organisms, dead bacterial debris, fungal spores, the exoskeletons of insects, etc are removed. Dehydrated and milled to powder, the faeces are then bottled for consumers to slather on their chops. Id feel more comfortable if the stuff was scraped off a trees bark using a credit card. Perhaps, in a sense, it is.
To clarify, no fun translates as bird poo, while uguisu is the species name of the Japanese bush warbler, somewhat different from a nightingale. The Koreans were the first to use bird faeces, to strip dye from clothes. The Japanese applied the idea to skincare, observing how it removed makeup efficiently, leaving bright and clear skin. While it has been used by kabuki actors and Buddhist monks, the technique is frequently nicknamed the geisha facial. Advocates claim it clears acne and reduces the appearance of pores. Can that be worth the voluntary scatology?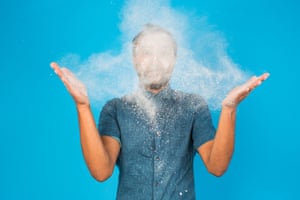 Source: http://www.theguardian.com/us