Supporters of exiled leader square off against riot police and demand his return, while MAS lawmakers try to oppose Jeanine Aezs claim
Fresh clashes have broken out in Bolivias main city as the newly declared interim president Jeanine Aez faced challenges to her leadership in the Senate and the streets from supporters of the exiled leader Evo Morales.
Running battles broke out in La Paz as Morales supporters, throwing rocks and wielding wooden planks, squared off against riot police who set off teargas into the crowds of demonstrators. Huge crowds also mobilised in the adjacent city of El Alto, demanding his return.
Former senate head Adriana Salvatierra, a Morales loyalist who resigned just after he did, was prevented from entering the parliament building by police who scuffled with her supporters.
Emboldened Movement For Socialism (MAS) lawmakers and senators, who hold a two-thirds majority, tried to hold sessions to declare Aezs claim to the presidency illegal and block Moraless resignation.
But the US secretary of state, Mike Pompeo, congratulated Aez on claiming the countrys top job: The United States applauds Bolivian Senator Jeanine Aez for stepping up as interim president of state to lead her nation through this democratic transition, under the constitution of Bolivia and in accordance with the principles of the Inter-American Democratic Charter.
Meanwhile, Morales calledfor dialogue with his political rivals but repeated his allegation that he was the victim of a coup, as the countrys interim leader pledged to hold new elections as soon as possible.
Speaking at a press conference in Mexico City, Morales called for an end to the violence that has racked Bolivia since elections last month plagued with allegations of vote-rigging.
I have a message for the police and the armed forces: dont stain yourselves with the blood of the people, he said. At least eight people have been killed in three weeks of clashes across Bolivia.
Morales dismissed an Organisation of American States report that found there had been clear manipulations of the vote which would have handed him his fourth term in office. He saidhis rightwing opponents had plotted the coup from the night of the vote.
The OAS is not at the service of the people of Latin America. It is at the service of the USA, he said. We built a lot with so much sacrifice and now this coup is destroying Bolivia.
As Morales spoke in exile, Aez pledged to hold a new election as soon as possible, calling for a peaceful transition from what she described as a totalitarian regime.
In a message to Bolivias young people, she tweeted: God bless you and allow us to be free and to hold transparent elections soon.
The senate vice-president and a conservative Christian, Aez declared herself the countrys interim president late on Tuesday with outsized Bible in her hand despite a boycott of the legislative session by lawmakers from Moraless party.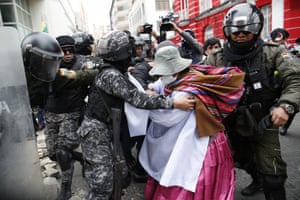 Source: http://www.theguardian.com/us