Why has the ravaged fallen city been such an inspiration to artists for millennia? Ahead of an epic show at the British Museum, our writer unravels its extraordinary influence
Troy is a real place. The excavated city of tumbled stone at Hisarlk in western Turkey, near the mouth of the Dardanelles, is generally accepted as the site of its remains. But perhaps Troy is now more a zone of the imagination, rebuilt and repeopled every time someone makes it afresh in their mind through the act of reading or looking, writing or making.
It all started with the Homeric poems: The Iliad, about the Trojan war; and The Odyssey, about Greek fighter Odysseuss troubled, circuitous return home after victory. Dionysius of Halicarnassus, the first century BC scholar, called Homer the source from which every sea, every fountain, every river flows. As if to prove his point, he was quoting Homer when he wrote that (specifically, the ancient Greek poets description of the ocean, the encircling girdle of waters that surrounds the known world, in book 21 of The Iliad).
The poems drawing on many years of orally transmitted song and written down somewhere between the late 8th and late 7th centuries BC loom inescapably large in later classical literature. Sappho remade Troy in her heartstopping love poetry, allowing the sexy, semi-divine, magnetic figure of Helen, over whom the war was fought, to remind her of her own alluring lover. The Greek tragedians rebuilt Troy and the places connected with it in such plays as Hecuba and Iphigenia in Aulis and Agamemnon. Virgil recreated it magnificently as a Roman national epic.
People are still remaking it, including in recent years the writers Seamus Heaney, Pat Barker and Alice Oswald. Artists have been similarly drawn to the tale. In Troy: Myth and Reality, a new show at the British Museum, African American artist Romare Bearden reimagines, in a collage from the 1970s, Odysseus as travelling through African and Caribbean realms. In a photographic work from 2007, Eleanor Antin turns The Judgement of Paris, one of the events that led to the war, into a camp beauty contest in which Athena, goddess of war and winning, poses like Lara Croft, while Hera, protector of the family, vacantly pushes a vacuum cleaner in 1950s frock and pinny.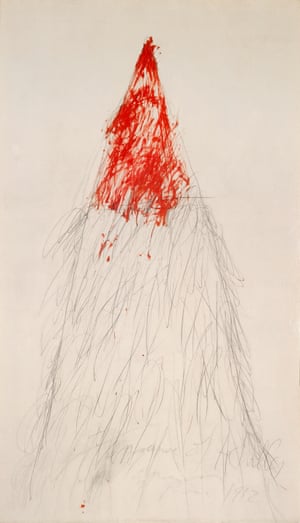 Source: http://www.theguardian.com/us