Though Kandy Shepherd is a romance novelist, her marriage to James Carpenter is built on more than passion: shared values and mutual support are key
Names: Kandy Shepherd and James Carpenter
Years together: 31
Occupations: Romance novelist and business owner
If Kandy Shepherd and James Carpenters relationship was a romance novel, it would be a short one. Three days after the editor-turned-romance-novelist met the businessman, they decided to spend their lives together.
And they have. Weve been together 31 years, says Shepherd. Ten months after we met each other, we got married.
On the day we meet, the couple are surrounded by boxes scattered around their Sydney home. Theyre about to move to their Blue Mountains farm for good. Yet it all began with another move.
In 1988, a close friend of Shepherds was searching for a flatmate. Carpenter, whod been working in Canberra, was transferred to Sydney and looking for somewhere to live. He turned up on her doorstep and, Shepherd says, her friend took one look at him and thought Hes for Kandy. I was oblivious of course, says Carpenter.
The couple met at a party a few weeks later and the flatmate was proved right. Shepherd remembers thinking not only that he was handsome but that she liked him as a person. If he was married and I was married … I would have liked him as a friend. We just got on well. He was similarly captivated by Shepherd, who was the editor of Family Circle at the time.
Both had been married previously, with Carpenter recently divorced. While he hadnt planned on getting involved with anyone so soon after arriving in Sydney, he was drawn to Shepherd. I did trust my instincts, trust my judgment and …It wasnt taking a risk really. I just thought I like that lady.
The following night they went on a very lovely formal date to see the film Good Morning Vietnam, with Carpenter bringing Belgian chocolates along as a gift. After the movie, they went to a cafe and ended up staying until 2am. [The staff] were looking at us and [piling up] all the chairs all around us and we were totally oblivious, says Carpenter.
They were full on from the word go but trusting each other was crucial. Carpenter had a classified government job that meant he often had to disappear. He says: I would say to Kandy, Im off. I cant tell you what Im doing, where Im going, how long Ill be. I cant get in touch but I have to go. So she had to trust me to do that. And then Id just reappear and that was it. Shepherd understood it was part of the package. He told me about his job, [he said] you need to know this if were going to spend our lives together. And we thought, Yes we are going to spend our lives together!
Six weeks after that first date, he moved into her apartment and paid off her mortgage. I said well need to transfer into both our names then and thats going to cost stamp duty [so] lets do that. And he said, No, no. I trust you.
Building a home together was something they had in common and still do, having renovated a number of properties over the years. They both love animals, the outdoors and are both Anglophiles. But in many ways they are very different, says Carpenter. As people, were virtually 180 [degrees] in a lot of respects. Im more introverted, Kandys more extroverted. Shes the pshhhu and Im the slow burner … Im the sporty one, shes not. Shes happier looking at her book. So were vastly different people but we have worked it out.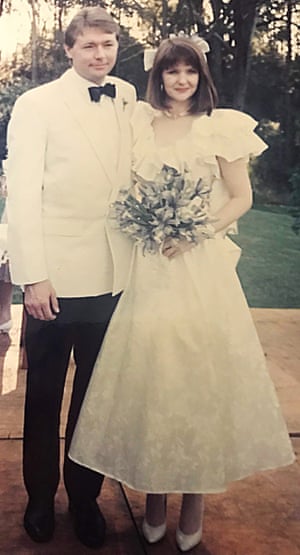 Source: http://www.theguardian.com/us