A longer version of the directors hit Tinseltown Oscar front-runner has hit US cinemas with 10 more minutes of questionable action
After I saw Quentin Tarantinos summer hit Once Upon A Time In Hollywood I actually said to a friend: All I want is to watch more of Brad Pitt just driving around Los Angeles. When I heard that a new cut added 10 whole minutes to the already breezy 161-minute film, I was hoping for more of the hangin out vibe between the Tinseltown working stiffs played by Leonardo DiCaprio and Brad Pitt. Though I love the movie, and Im glad this last-minute rerelease got me off my bum to see it in a cinema a second time, Id like to issue a clarifying warning to anyone thinking of buying a ticket: manage your expectations!
The new footage isnt added scene work. Its two gags, a throwaway moment that gets a little stretched out and one thing thats pretty cool but completely unnecessary. Moreover, they bookend the movie two bits before the studio logo and two bits after all the closing credits have run. These are DVD bonus features and nothing more. But, again, these are DVD bonus features for one of the best movies of the year.
The first of the four moments is a fake commercial for Red Apple cigarettes, the fictional brand that has appeared in many previous Tarantino films. There already was a spoof Red Apple commercial that rolled alongside the closing credits; if you ran to the rest room as soon as DiCaprios Rick Dalton entered the Polanski-Tate house you may have missed this the first time. But this one is in color, and is a few talking heads biting into a red apple, and then smoking a Red Apple cigarette. Its just as banal and annoying as an actual television ad from 1969, so, in terms of world-building, its great.
Theres also a nice punchline at the end, when Burt Reynolds Actor (played by James Marsden) shows up to endorse the smokes. Marsden had been announced as playing Reynolds before the movie debuted at Cannes but was cut, so this is a nice there he is! for hardcore Marsden-heads, who probably do exist somewhere.
The second fake ad is for Old Chattanooga beer, which is Pitts Cliff Booths brand of choice in the film for when hes making mac and cheese and watching Mannix with his dog. Tarantino and his team really nailed the look and feel of old commercials; the film stock, the voice over, the shot of the six-pack covered in crushed ice do provide some nostalgic comfort to those who remember American television of a previous era. I wish I could grab one and yank its old, sharp, unsafe pull-tabs right now.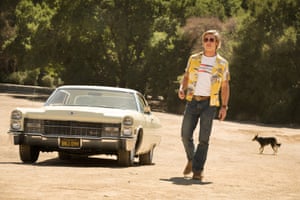 Source: http://www.theguardian.com/us