Philippe Albert, the former Newcastle defender remembers Faustino Asprilla, that goal against Manchester United and working as a greengrocer back in Belgium after football
When we travelled back to Newcastle from London, we often had five or six hours to kill on the coach. On the way Steve Watson used to bring videos and Viz comics. Even if we didnt understand everything, Kevin and the whole team were always laughing. On the way back, before we got on the motorway, Kevin used to stop the coach at a petrol station, go and buy some drinks out of his own pocket and bring them back for the team: red wine, white wine, lager, water, soft drinks. Then, when we passed a certain place on the M1, he would buy us all fish and chips.
Philippe Albert loved Kevin Keegan and not just because of the chips. As we talk around his kitchen table at his house near Charleroi, Belgium, Albert remains enchanted by the Englishmans warmth and optimism, just as he was in 1994, when Keegan sold the central defender the dream of playing for Newcastle United.
Keegan was a big part of why every player came to Newcastle, Albert says. When you speak to him, you just want one thing: to join the club. You dont need to talk about money; he was just so charismatic. As a kid, I would watch him on television playing for Liverpool or Hamburg and a few years later I was playing under him. Keegan was a world star. Even if I had played just six months under him, that would have been the best time of my life. When I met him, I knew straight away.
A graceful, goalscoring centre-back with a moustache, Albert quickly became a cult hero on Tyneside, fitting perfectly into the side that would become known as The Entertainers. He joined Newcastle for 2.6m on his 27th birthday (nabbing the No 27 shirt) after some brilliant performances at the 1994 World Cup, in which he helped Belgium to the knockout stages with goals against the Netherlands and Germany. Keegan, moonlighting as a BBC pundit at the tournament, was particularly impressed and a meeting in Leeds to avoid the press was arranged. It took 15 minutes to convince Albert to sign.
We talk a lot about Kevin. Even certain English words that Albert uses here, first learned during those early days in Newcastle tremendous and wow factor are straight out of Keegans lexicon: close your eyes and you can hear the Englishman say them. The stories come pouring out of Albert, small anecdotal ones that might not define Keegans tenure as Newcastle manager but show how he cared and the lengths to which he went.
We used to have three or four thousand fans watching first-team training, remembers Albert. The people were tremendous. Kevin was always the last one in to take a shower. If he had to sign 800 autographs, he would do it. No names but I remember two players wanted to leave straight after training. I remember Keegan grabbed them by the neck and told them: You go back. Sign for those people they are paying your wages. Thats Kevin.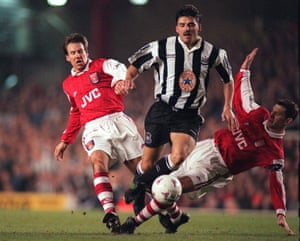 Source: http://www.theguardian.com/us