Investigation finds series of intelligence and coordination lapses prior to deadly attacks
A damning Sri Lankan parliamentary investigation has outlined extensive lapses of intelligence and coordination before the Easter Sunday bombings that killed 269 people, and concluded the spy chief was primarily to blame for the failure to stop the attacks.
The report, released on Wednesday, found the former head of the state intelligence service, Nilantha Jayawardena, had received information about possible attacks as early as 4 April, 17 days before the suicide bombings took place, but was slow to share the intelligence with relevant officials.
It said he was invited to share details of the specific warning of an impending attack at a coordination meeting of leading intelligence officials on 9 April, but Jayawardena said he would include the information in a special report he would send later. The report was not subsequently shared with most of the officials in the room, the committee found.
The report said the extremist preacher Mohamed Zahran, the alleged ringleader of the attacks, who was among eight terrorists who blew themselves up on 21 April, had been on the radar of authorities from 2015 and an arrest warrant had been issued for him in March 2017.
By 14 April, a week before the attacks, police were conducting searches for Zahran and his known associates. The next day, authorities managed to get his Facebook page removed. An attempt to do so two years before had received no response from the company, the report said.
On 16 April, a motorcycle was blown up in the eastern city of Kattankudy. Jayawardena told the committee he believed the incident was a dry run and said he had warned other officials: You have to take this seriously, because this is definitely a blast. This is Zahrans activity. We cannot take it lightly.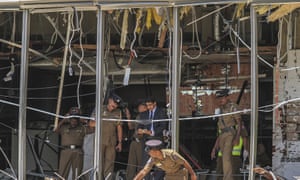 Source: http://www.theguardian.com/us